A few favorite recent reads...
Sorcery and Cecelia, or The Enchanted Chocolate Pot
by Patricia C. Wrede & Caroline Stevermer
If you're a fan of young adult fantasy novels, Jane Austen, and Georgette Heyer, this is the book for you. It's a charming read, set in Regency England. Like the more sophisticated
Jonathan Strage and Mr. Norrell
, magic is alive and well in England of the past. The book is set up as epistolary fiction; two young ladies feverishly write letters back and forth to one another from London to the countrywide. Magic, romance, and mystery are afoot.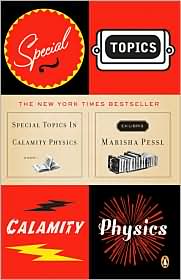 Special Topics in Calamity Physics
by Marisha Pessl
It's hard for me to belive this is a first novel. It's witty, intelligent, and engaging. Blue van Meer, the daughter of an eccentric academic, takes up with an unusual circle of friends led by an enigmatic teacher. Categorizing this novel is difficult -- it's very learned while still being very funny and real. It's part bildungsroman, part mystery, part homage to great literature. Pessl sets up the novel as a class syllabus; each chapter takes its title from a classic book. It's a bit similar to Donna Tart's
Secret History
, but much, much better.
The Mary Russell/Sherlock Holmes mystery series,
of which the first is
The Beekeeper's Apprentice
by Laurie R. King
These mysteries make for great travel reading. An aging Sherlock Holmes, retired to the countryside with his beehives, takes the young, headstrong, and very smart Mary Russell under his wing. While these books are light reading that are largely plot-driven, they're a huge step up from most mystery novels. King incorporates historical and literary figures in the books (e.g., the Reverand Sabine Baring-Gould and Rudyard Kipling's Kim), and the fictional accounts of travel and detection in the 1920s are engaging. Naturally, Mary Russell is a plucky heroine with a strong, independent spirit (and a real talent for languages, which I always appreciate).
Friday was a marvelous mail day...


Michaele (AKA the
Knitty Professor
) collects "puking" animal creamers -- china creamers in the shape of animals where the mouth is the spout. She had a contest for a name for her newest acquisition a while back. I contributed the playful name "Vominatrix" and was the lucky winner. She sent me my very own puking cow creamer, an awesome card, and some beautiful dark blue laceweight wool yarn from Sweden that I just love. Thanks, Michaele!
I did some test knitting for
Sarah
at
The Plucky Knitter
, and she sent me some gorgeous handpainted 50/50 bfl suri alpaca blend sock yarn. The colorway is "Barefoot in the Park"' I'm planning to knit some simple ribbed socks with it so that I don't have to go "Barefoot in the Cold Apartment" this winter. Thanks, Sarah!